Fly Fishing, Wind River Mountains and more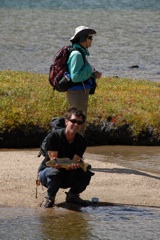 Some of the friends that we have made over the years. All are great resources!
Allen's Diamond 4: Classic western riding trips and spot packs. We use them!
Lander LLama Company: The llama outfitter on the Eastern side of the Winds. Also rents llamas.
Lander Chamber of Commerce: Has a listing of all the motels, restaurants, and business of our town.
Wild Iris Mountain Sports: The classic outdoor store of downtown Lander. They have all your gear needs along with Wyoming and Reservation licenses.
Blue Ribbon Flies: The best in W. Yellowstone with the most innovative flies, techniques, and tying materials, besides being wonderful people.
Wind River Canyon Whitewater: The only outfitter allowed to run float trips in Wind River Canyon. Hank sometimes guides for them.
Wind River Outdoor Company: Our local fly shop with an incredible amount of flies, fly tying supplies, and all your fly fishing needs.
The Mill House: A boutique hotel in downtown Lander for those who want something out of the ordinary, and still competing with normal motel rates. 5 rooms and lots of space. 307-349-4765.
Other resources:
The Orvis Learning Center. One place where you can see how it is done. Excellent, short, video on most fly fishing subjects.
Recent video on fishing in the Lander area The New Fly Fisher.
Hank Hunker videos:
Hank's video of fishing for bonefish on Exuma, Bahamas. 2010.
The video which best shows our fishing in all it's aspects. 2011. Sweetwater trailer.
Hank and various friends in their favorite places. 2012.
These are all less than 5 minutes. Enjoy.