Rates & Dates
Now accepting bookings for the 2019 season.
July 7-14: Backpacking for cutthroats, brooks, and goldens. Estimated cost $2800 per person.
July 23-27: Horse supported trip concentrating on goldens (also good cutts). Estimated cost $3200
if riding in and out. Hike in cost estimate $2700.
August 5-11: Backpacking and fly fishing into gorgeous Winds coutry. $2195 per person.
Day Fishing trips:
$490/$525 for one/two.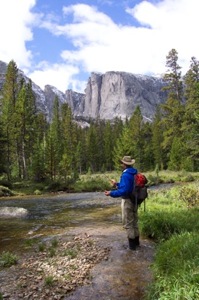 Five-day Expedition:
$2055 per person.
One-week Expedition:
$2195 per person.
Ten-day Expedition:
$2895 per person.
Horseback Trips: Add to expedition rate above when:
Riding in and out: $1000 to $1500 per person.
Walking: approximately $750 per person.
Shorter mountain trips: Please call to discuss. We do them.
Drift Boat trips: We guide the Bighorn in the Thermopolis area. Same rate as day fishing.
Hourly rate: $75 for lessons and instruction.
Terms:
Cost covers everything except licenses, gratuities, and lodging/meals before and after trip.
50% Deposit required for booking
Balance: Due upon completion of trip
Cancellations: Your deposit is non-refundable unless we can fill your place

Click here for a downloadable reservation form in pdf.
Download our equipment list for backpacking or horse pack trips in pdf.